Oregon Coast Scientists Worry About Some Gray Whale Populations
Published 01/23/2016 at 4:23 PM PDT
By Oregon Coast Beach Connection staff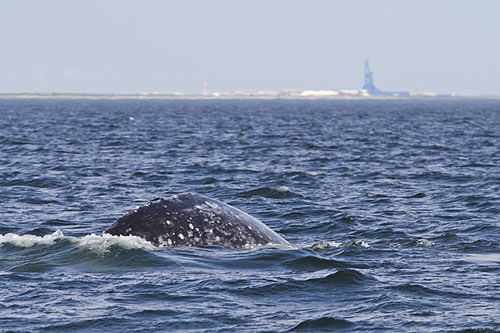 (Newport, Oregon) – Scientists from Oregon State University in Corvallis and its Newport facility the Hatfield Marine Science Center say one segment of the gray whale population in the Pacific Ocean is not doing well. (Photo above: a whale near Russia, courtesy OSU).
Gray whales are divided into two segments: the eastern gray whale commonly known along the Oregon coast, and the western gray whale that inhabits the waters of north Asia. The western gray whale, according to local scientists, is not faring as well as its Oregon counterpart, after both at least started to recover from whaling after the 1970's.
Researchers believe that a lack of prey is hurting the recovery of the Asia-dwelling population. Only about 200 of them reside in their feeding area near Russia, and it's theorized a small crustacean called Ampelisca eschrichtii that is their biggest food source is much of the problem.
A recent study by Hatfield scientists came up with a few twists and turns, especially with the Sakhalin Shelf area of Russia, where the eastern grays feed.
"The Sakhalin Shelf could be the richest gray whale feeding area in the world," said John Chapman, a co-author of the study who works at Oregon State University's Hatfield Marine Science Center in Newport, Oregon. "But this discovery includes some surprises, still surrounded by mystery."
Scientists found that on one hand the food source was too abundant to be over-consumed by the whales, yet the species was not rebounding after restrictions on whaling were put into place 40 years ago.
Chapman believes it's possible that access to the food is somehow restricted, perhaps because it is too deep or that its mixed with sediments that make them unsuitable. Plus, the distance that it takes to reach this feeding area costs more energy for the whales than they can healthily sustain.
"Such extreme migration between the feeding grounds on the Sakhalin shelf and the breeding grounds in Baja California and back may be too energetically costly to pay for the trip," Chapman said.
Another issue may be the ice sheets of the Sakhalin Shelf, which must recede in order for the eastern grays to graze.
"The whales can't get to this prey until the ice recedes each summer," Chapman pointed out. "But if the ice-free areas expand too far, or persist too long, the production of these crustaceans could decrease significantly